412-366-1356  •  hpcbodyandsoul@gmail.com
Located in Heritage Church at 2262 Rochester Road, Pgh PA  15237
(Franklin Park/McCandless Area)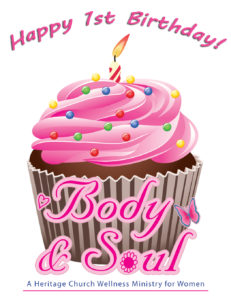 We're celebrating our first year of ministry the week of April 23rd.  Thank you to all who made our first year of the Heritage Body & Soul Wellness Ministry possible. Please join us for the birthday festivities!  Click here for a flyer with details!
Body and soul features strength training, cardio, and stretching in a circle of support with compassionate friendly encouragement from women who care about you. Work all of your muscle groups in an efficient workout designed to fit your hectic schedule. Our lead staff, with over 25 years of combined experience, will help you with your wellness goals regardless of your fitness level.  Click here for our flyer with more details.  **First time users must make an appointment for training.  Stop in during our business hours below to schedule an appointment or us at  call 412-366-1356.
Spring Hours
Monday – Thursday: 7am to 1pm  &  3:30pm to 6:30pm
Friday:  7am to 1pm & 3:30pm to 5:30pm
Saturday: 8 am to Noon • Closed Sundays & Major Holidays
Group Fitness Classes
Most classes are $5 per session. Discount cards available.  A class will run when at least four participants are registered. Sign up in the Body & Soul Wellness Center.
• Walk 15 (half hour) — Tues & Thurs: Noon  •  Wed: 7:30 am  •  Thurs: 6:30 pm •  Fridays: 7:30 am
• Zumba (hour) —Saturday: 9:30 am
• Praise Moves (hour) — Wednesday & Friday: 1:00 pm
• FXP Hoop (hour) —Saturday: 11:00 am  (once a month)
Special Events/Speakers
•  Sunday, April 23: Birthday Cake with our Heritage Family following 10am Worship.
•  Tuesday, April 25
-11:20 am –  Birthday Cake #2 with our Body & Soul family
-11:30 am – Women's Wellness Discussion led by guest-speaker, award-winning news anchor, Jennifer Antkowiak
– Noon –  Walk 15 Class led by Jennifer Antkowiak.
– 6:30 pm –  Women's Personal Self-Defense Class taught by Officer Jason Venturella from the Franklin Park Police Department
•  Wednesday, April 26
– 9:00 am to 10:30 am – Interactive Fashion Show by Joy Fitwear.
•  Thursday, April 27
-10:30 am to noon – Interactive Fashion Show by Joy Fitwear.
•  Monday thru Saturday (April 24 – 29): Fun prizes and raffles for our birthday
May 2017:  Slim Down Motivation Workshop
Keep it up!  We are planning a wellness workshop with Dr. Turo. Check back for details. We think it will be Thursdays at 6:30 but still working on the details.